We do full service automotive window tinting Scottsdale from our shop in Old Town. Brand new car with no tint? Your daily driver is getting a little faded? Just want something better or darker than what you have now? We do them all!
Window Tinting
Scottsdale

with Premium and Ceramic Films

At our shop we only carry the good stuff, so that you bring your car in once and then just enjoy it without issue. There is plenty of low quality window tinting out there that lasts just a summer or two before it gets ugly. Some shops even use discounted "factory seconds" material, cutting around the most obvious flaws and putting what's left on your car. Why bother? Why not just do it right the first time?

When you come in to our shop for window tinting Scottsdale we offer you a choice of full or deluxe package, Premium or Ceramic film. And of course you can choose your shade of window tinting film, from light to dark - all with top UV blocking.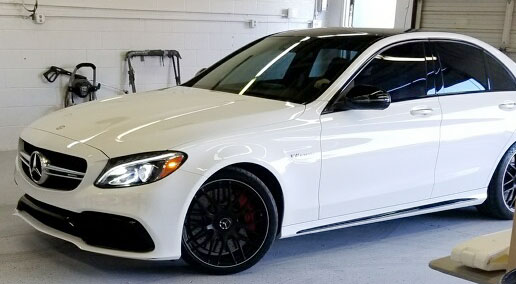 Premium Window Tinting
Scottsdale
Our premium tint is the good stuff and we use it day in and day out. If you drive up and down Scottsdale Road and look at the dealerships, many of the cars you will see have made a quick stop at our shop for window tinting Scottsdale. They are tinted with our premium film and look amazing, which will last for years.
At our shop we skip "regular" or "standard" grades altogether and just use what we like and trust to be the best for our climate. The sun here doesn't mess around, so neither do we.
Ceramic Window Tinting
Scottsdale
The latest film innovation and top-of-the-line tint film is our Ceramic line, which never fades and has the best UV + heat rejection rate. When you block the UV and infrared rays, your skin is spared excess sun damage and the interior of your vehicle will too.
Since Ceramic Tint doesn't use a conventional darkening agent to achieve the perfect shade, the sun's rays don't make it lighter as the years go on. It will remain most consistent over the lifetime of the tint, and give you the best performance from years of innovation.
More information ceramic film here.
Make Your Appointment: Call Jonathan at 602-621-9695