Looking for a nearly clear window tinting that will block 99% of UV rays? We offer our full window tinting and/or windshield tinting service, which we can do in a very light shade to maintain visibility.
We offer windshield tint, always in our Ceramic film, that provides excellent protection and comfort. We have clear windshield tint on our own vehicles and highly recommend it as an upgrade to your regular tint service (which includes side and rear glass).

Don't Want to Go Dark? No Problem - We Have Nearly Clear Window Tinting Film
When you want to maintain top visibility or need to adhere to another state's window tinting laws, our light shades are for you.
Not everyone wants deep dark windows or the privacy (and occasionally, the difficulty) that comes along with dark tint. If that is you, we have you covered. In our shop we stock Premium and Ceramic window tinting films in a more clear shade - giving you a lighter look and more visiblility while driving.
Tint is Measured in Light Transmission - The Larger Number is More Transparent
It can be confusing at first but with our film selection, the higher number is the lighter film. A number like 70 means that about 70% of the outside light will be permitted to shine through your auto glass.
Our 70% film is excellent for windshields because you have the highest level of clarity but still less sun beating down on you. While Arizona law does not explicitly allow for windshield window tint, we've found 70% Ceramic not to be a problem or to attract unwanted attention.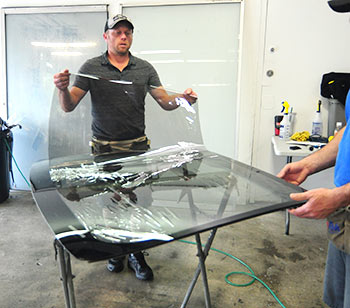 99% UV Blocking Clear Window Tinting for Your Windows and Windshield
While it is true that the darkest films provide the highest Total Solar Energy Rejection (TSER), you will still get complete UV ray protection with all of our films. The TSER for our 70% Ceramic film it is 49%. Read more about the ceramic window tinting difference here.
Choose Your Shade on All Windows, From Clear to Limo
As the driver you can opt to choose a different shade (if you so like) for your front two windows, the rear doors, and the back window. Want to do your windshield? Pick any shade you like.
Not sure what is right for you? We are happy to advise and give you our picks. Your maximum driving comfort is our goal and we want to find the balance between cutting the glare and keeping the driver visibility in your optimum range.
Window tint is right for EVERY Arizona vehicle. There is no need to go dark if you don't want to, and we have options for all preferences. You will absolutely feel a difference and have a better driving experience with clear window tint on your vehicle.

Make Your Appointment: Call Jonathan at 602-621-9695
TSER and associated data tables for our ceramic film (look for XR Black).