Book Your Appointment Now: $395-595* For Ceramic Window Tint Service Call 602-621-9695
Additional fee will apply if we will need to remove existing tint.


---

* This price applies to most but not all vehicles. Please call us with your make and model.
You'll Feel the Difference with our Ceramic Window Tint!
Our top-of-the-line ceramic film will give you the best UV, heat, and sun protection for every pane of glass on your vehicle. You don't need to just take our word for it - come by and test it out in our shop before you commit!
Top Tint: The Numbers Back It Up
This special window tint film has has a 10+% lead over the others in Total Solar Energy Rejection (TSER).
With its nano ceramic construction & ceramic particle technology fabrication, this film is able to reject light in the infrared spectrum. No other product can do this, and that's how ceramic achieves its excellent TSER rating. It is blocking light and heat in wavelengths that our eyes can't even see. But you absolutely will feel it!
Good, Better, & Best Window Tint
There are a lot of choices in window tint, and film quality is something that can really vary between shops. We spend quite a lot on materials to get an American-made product that we like to work with & can count on to last against the Arizona sun.
The Best is our Ceramic and Ceramic PLUS window tint, which really takes the sting out of summer driving.

The Better would be a high quality carbon film (which we used to install too until our customers embraced Ceramic!)

The Good end of the tint spectrum is (quite plainly) not something we sell.
We recommend Ceramic everyone who wants the best in sun protection, and especially for our Tesla customers with panoramic sunroofs.
"We're going to need the second car upgraded to ceramic, too!"

- Our customers who chose Ceramic for car #1 and Premium for car #2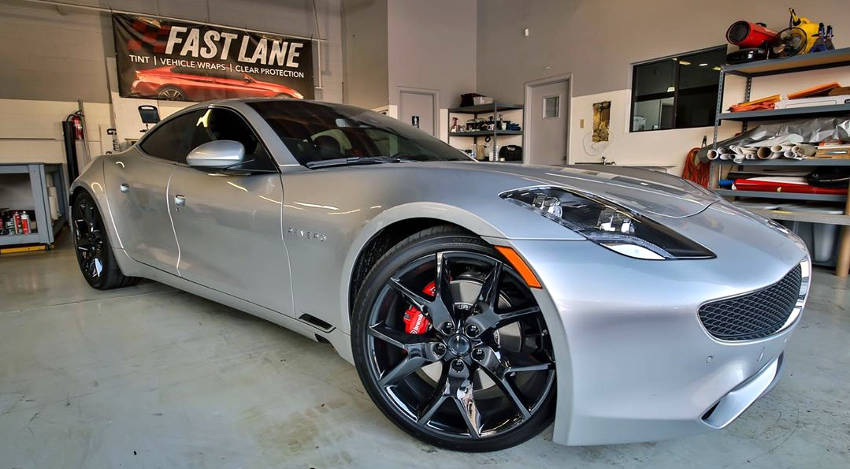 Comfort and Protection From Sun Damage
We get one body in this lifetime, and you really have to protect yourself here in the desert. Driving around over the years is a significant source of sun exposure and damage to our skin and eyes. Our physician customers agree: limit your time in the sun! Ceramic on your glass is a bit like having quality sunglasses - but on your whole vehicle. Effortless comfort, and you'll never go back.
See The Famous Photo: Professional driver's skin damage after years of drivers-side sun exposure. (Opens in new window)
Not surprisingly, your car's interior also suffers from UV rays and the constant attack of the summer sun. Dashboards crack, leather dries out, and many other components get damaged - leading to expensive repair and loss of enjoyment. Investing in quality auto glass films will reduce and slow the solar degradation process.
Light and Dark Shades, All 99% UV Blocking
Better ratings in Total Solar Energy Rejection also mean that you can get excellent sun protection in light and very light window tint shades. Some of our customers greatly prefer a very light tint (for day and/or night driving), and ceramic absolutely fits the bill.
Your windshield is also an excellent candidate for tint film, and we can use a very light shade to give you true 360° sun protection. This is a separate upgrade from our regular tint package, and I highly recommend it. We give a nearly-invisible ceramic windshield tint to our own fleet, and would be happy to show you what that looks like when you come in.
Opt for one shade on all windows, or go a bit darker on the rear doors and back glass so that your passengers have more comfort and privacy. Your family will appreciate it! We can show you our most popular shade choices and help you decide what works best for your vehicle and your lifestyle.
Tint adds that extra polish. Our films will both protect your vehicle and enhance it visually. There is just something more presentable about vehicles with quality tint on them, whether light or dark. The look is more "finished" but also much more inviting when the summer sun is beating down overhead.
We stand behind our work and our products:
All window tint comes with a lifetime warranty and will not bubble or fade.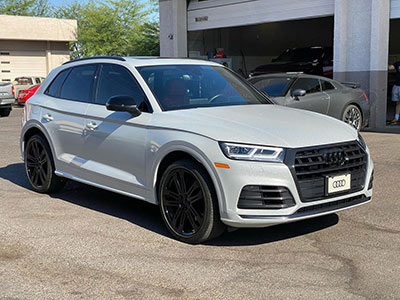 For the Lifetime of Your Vehicle
Straight talk: cheap tint fails fast. 18-24 months fast.
Instead of dyes that will fade (like the very-old and very-cheap options), this film uses super-stable nano particles that won't degrade over time. Unlike older metallic based window film products, our ceramic product has no effect on radio/communication frequencies. Yes that's right, tint used to mess with your reception or turn purple over time!
Our ceramic film is guaranteed for life by the manufacturer, and we extend that to our valued customers on the service side as well.
Top film and top service: the Fast Lane difference.
Now Offering Ceramic and Ceramic PLUS
2022: Fast Lane goes all-ceramic! By overwhelming popularity, we have decided to focus only on this top performing film. We have discontinued our previous entry-level product and added our manufacturer's new highest-line ceramic film to our service menu.
Ceramic is our excellent desert-proven tint that rejects more heat than any other class of film.
Ceramic PLUS is the next-gen product in the ceramic line, which rejects additional infrared heat.
Book Your Car: Call Jonathan at 602-621-9695
Manufacturer's information for our film (see XP Black and XP PLUS).