Catch eyeballs with every mile your vehicles drive - vehicle wrap advertising generates the most marketing exposure for your dollar, and is a one time cost for your business.
Get a Vinyl Vehicle Wrap: We can install AND design a hot new wrap for your business!
Call 602-621-9695 for your no-obligation consultation.
All kinds of wraps and price points - Partial Wraps starting at $1,000
Looking for one-color satin and matte wraps? You want our color change wraps
Create a Billboard On Wheels with Our Full Color Vinyl Vehicle Wraps
If your business currently has unbranded cars and trucks on the road, you're leaving a big opportunity on the table. How much faster could you grow your business with thousands of ad impressions per day?
Onsite service providers, delivery vans, special equipment (like cranes and dozers), and even company cars are all prime candidates for full color vinyl vehicle wraps. Any vehicle your business owns deserves to be identifiable and have contact information prominent for interested new clients.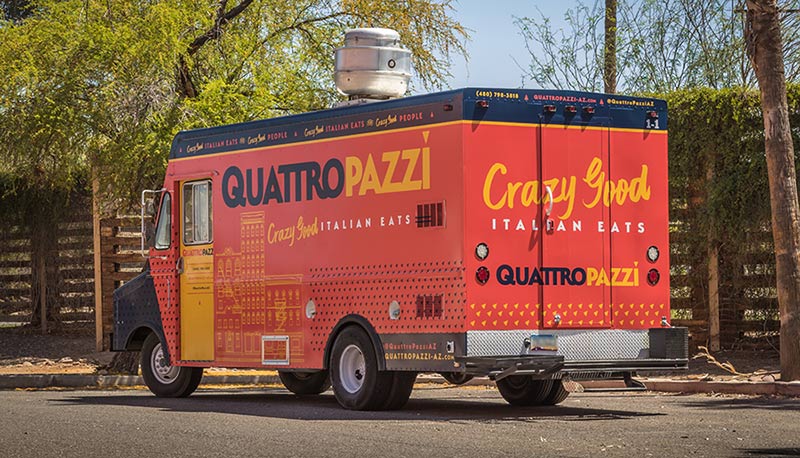 We offer a variety of vehicle solutions for business, from our full coverage printed wraps (like the food truck above) to custom vinyl decals and partial vinyl vehicle wraps.
Learn More: Call Jonathan at 602-621-9695
You Choose the Coverage of Your Full Color Vinyl Vehicle Wrap
We can cover the entire exterior of your vehicle in color and call to action, like this: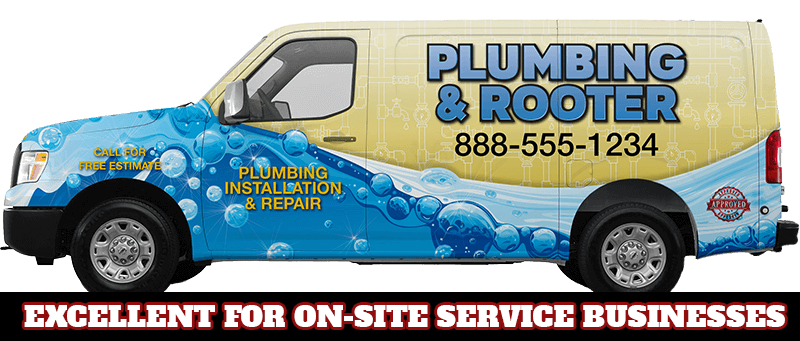 Or if you'd like to experience the power of full color vehicle wraps on a smaller budget, we can create a custom partial vehicle wrap for you. Partial wraps cover less of your paint and/or glass, perhaps 1/3 the total surface area, but they can be just as bright and commanding.
Full Color Printing Means All the Colors of the Rainbow
Our premium print wrap film starts a bright white and is produced just for you from the artwork you provide or we design for your specific vehicle. We use essentially a CMYK print process which means that you can put high detail photographic quality imagery and artwork onto your fleet, in thousands of colors and shades.
Unlike our color-change vinyl which comes from the factory as one color all the way through, our print wraps are completely custom artwork printed onto white vinyl. There is no price difference for using multiple colors, as they are all printed together at the same time on one piece.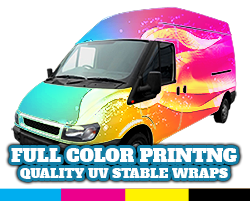 We Print Our Vehicle Wraps Using High End Materials For The Best Longevity
Creating a beautiful wrap is no small feat, and we want you to have the ultimate lifespan and durability of your exciting new business asset. The Arizona sun is already going to do its work, as it does every day blasting us with degrading UV rays, so we insist on starting with the best materials.
Starting with the white printable wrap vinyl, we use a top 3M product with excellent adhesive and positioning properties. This is important for a crisp result that doesn't come off!
After we ensure the art files are formatted correctly and will be a sharp print, we produce the wrap on a very large printer with high quality UV resistant inks. These are specially formulated vehicle wrap inks that have enhanced durability against scratches and abrasion.
The final layer is our top lamination, which seals the underlayers and provides an additional buffer against the elements (and accidents) so that your full color vinyl vehicle wrap stays in top form for years.
You can expect your business vehicle wrap to last 3-5 years in the Arizona sun and possibly longer if you can park it in shade and apply special protectant finishes from time to time. How many people do you drive by in 3-5 years? THAT is the question!
Learn More: Call Jonathan at 602-621-9695