For our Tesla rates and to Book Your Appointment: Call 602-621-9695

Teslas are an exception to our standard pricing, and we greatly prefer to tint the entire rear glass + sunroof + front windshield. Ceramic is our recommended window tint for Teslas.
See Our Photo Gallery of Teslas in the Shop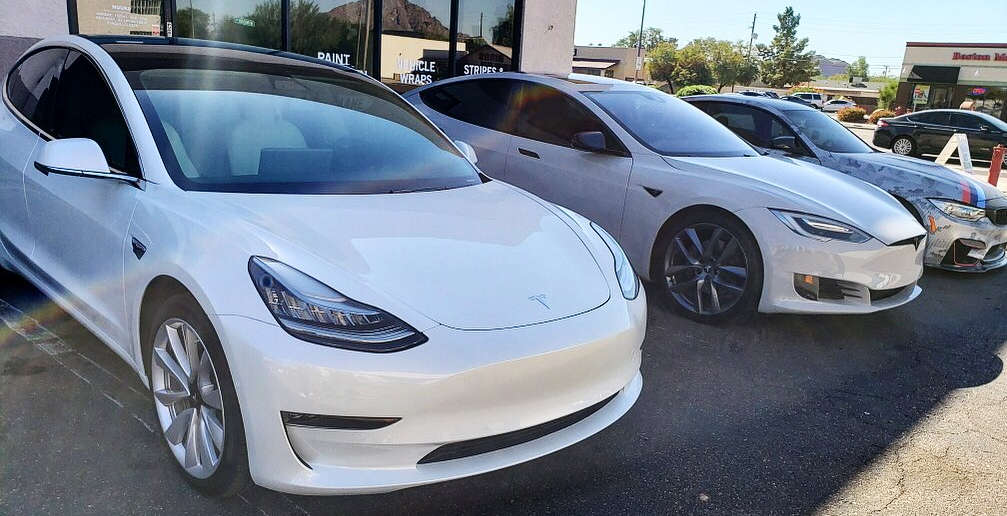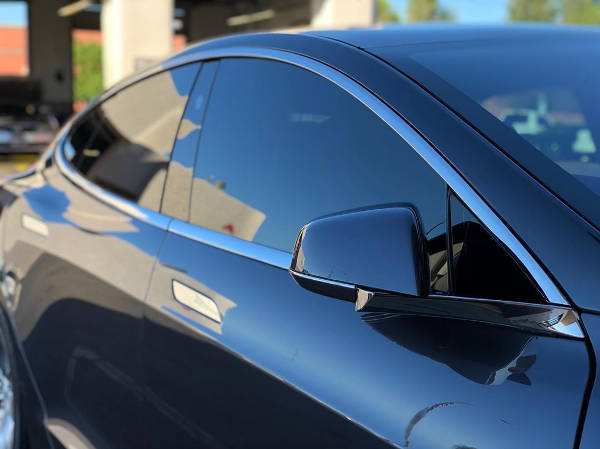 Fast Lane Loves Teslas
We've sat in many and we've nearly caught the bug as well for this future-thinking car that is incredibly fast, comfortable, and well appointed. As your vehicle arrives in Arizona and is delivered to you there will be just a few finishing touches that will make your car a true AZ native. We specialize in Tesla window tinting and clear bra paint protection services.
Single Piece Tesla Window Tint Install (No Seams)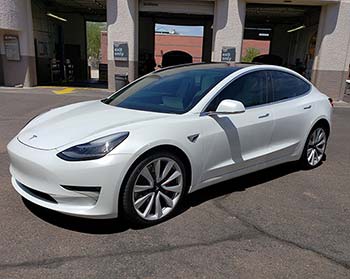 Anything worth doing is worth doing right - so is the wisdom of dads everywhere (and now us). Tesla window tint can bring special challenges, especially the panoramic sunroof. That big blue sky up there also lets in a lot of solar energy - which is nice in cool/mild weather, but for summer one of our clients said it best:
"My Tesla was delivered just the other day and I've been driving it around. This is brutal - give me your NEXT APPOINTMENT!"
In Phoenix and Scottsdale, you are going to need an excellent film on that glass. We recommend our top-of-the-line Ceramic window tint, but we have multiple high-quality options and you will be able to see and experience them via our heat box when you come in.
Most importantly, we tint every piece of glass on your Tesla (and all vehicles) using a single piece of window tint for a most professional seamless finish. This requires special oversize rolls of film to accomplish, an oversize plotter to cut them, the right patterns, and a mastery of technique and tools (which Jonathan has in spades).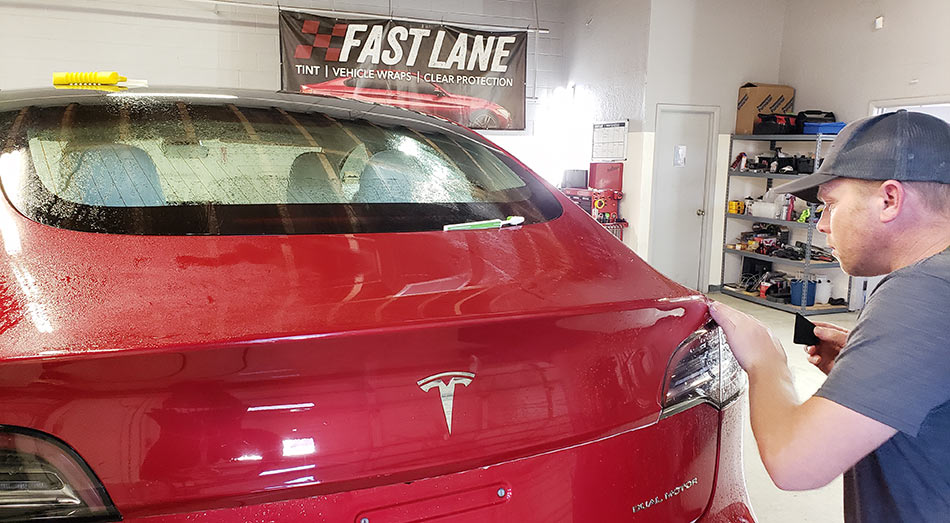 Every Watt Counts
Since electric cars don't have a traditional alternator and aren't recovering very much power during travel, you'll want to save power on auxiliary systems to keep your miles-til-next-charge as high as possible. Even a handful of miles can make all the difference in an emergency situation. When we set your window glass up to resist the powerful Arizona sun, the burden is reduced on your cabin cooling system.
Our Tesla Window Tint Add-Ons Vary By Model
We also offer sunroof and windshield tint in addition to a standard tint service which is all doors &s side glass plus the rear window. Rates vary by model and configuration but be assured, we have the expertise and materials for 360 degree sun protection. We carry the right material roll sizes and tools for the biggest and most expansive pieces of glass on these cars.
Tesla Clear Bra / Paint Protection Film
As you take delivery of your new car, this is the perfect time to clear bra the front end if you'd like it to stay pristine for as long as possible.
We've found that as a group, Tesla owners are an exciting and passionate bunch. We get to share in this dream with you of an entirely reshaped automotive future -- fossil fuels by the wayside and power cells that require almost no maintenance. So many of our valued owners know as soon as they place their order that this will be a special car they keep for its entire life.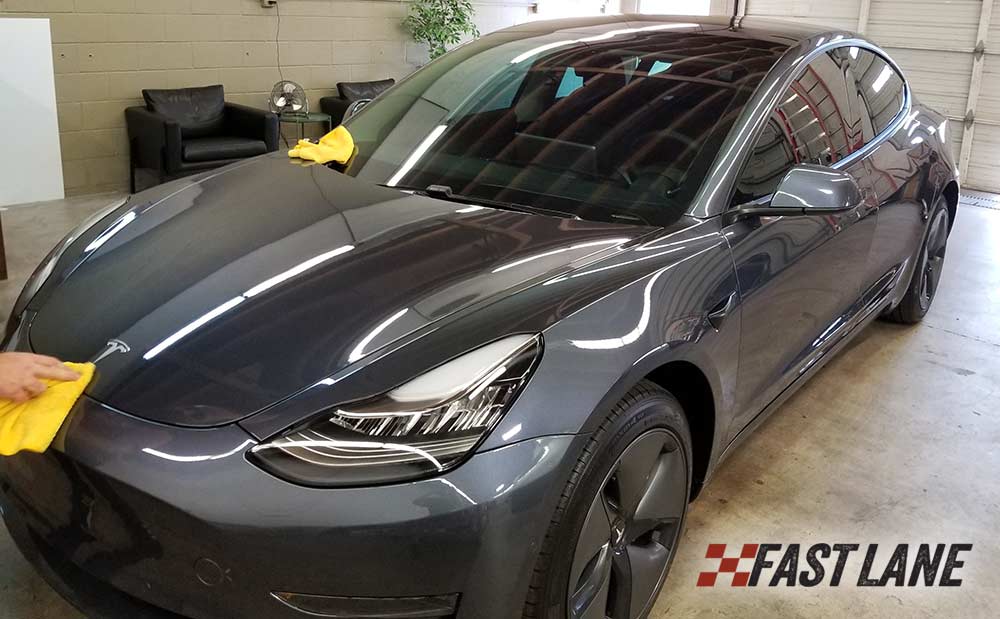 To that end, we highly recommend taking good care of your paint and considering a PPF "clear bra" layer over your car's front end. We do offer a front bumper kit, but the Teslas do particularly well with the entire front end covered, as it suits the shape of the car better. (The lines from the film are faint but a bit more visible on Teslas than most other cars).
Our paint protection film is XPEL Ultimate Plus 10 Year.
Read more about our Clear Bra PPF here.
Get Your Tesla Ready for AZ: Call Jonathan at 602-621-9695
Tesla Wraps and Chrome Delete
Want a fun fresh look that will last for years and remove without a trace? You want our color-change vinyl wraps, which we do in just about every color imaginable.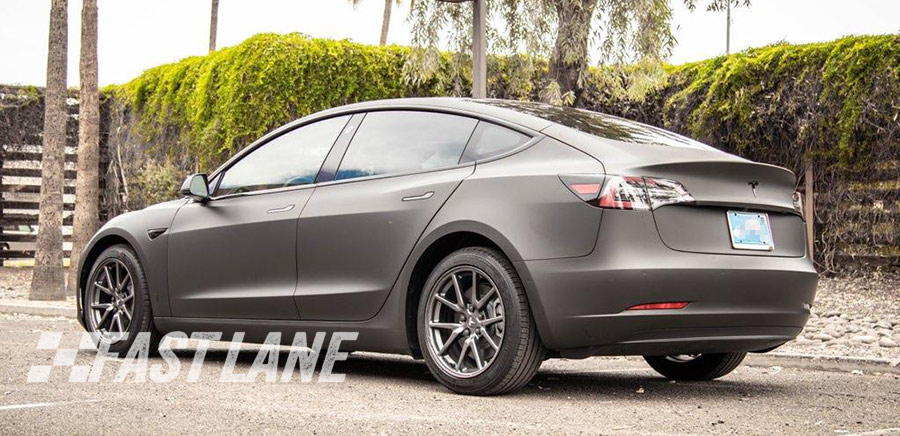 For a different kind of transformation that will still leave people wondering just what is so different and classy on your vehicle, we offer our chrome delete / trim wrap option.