If you are the type of person who takes very good care of your self, please add ceramic window tint to your arsenal of anti-aging care products. On the other hand, if you haven't given your skin very much thought over the years and are noticing some changes, this is an easy step you can take to slow it down.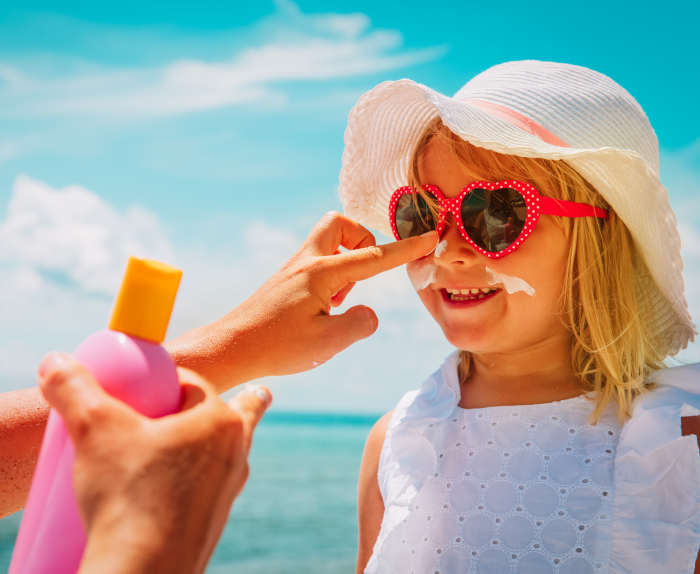 UV Damage is a Big Part of "Getting Older"
When skin begins to change, typically what we see in the mirror are wrinkles, sagging, and age spots. While time always marches forward and no one gets out alive, it is the sun's rays that accelerate our skin's decline.
The more unprotected sun exposure you experience, the more damage your skin will take.
This means that while we all will get lines, wrinkles, and spots at some point, if we protect ourselves from the sun we can keep the effects to a minimum. If you would like to avoid premature aging, sun protection is critical.
UV rays are so powerful that just about everything left out in the sun will take a beating as the years go by. Have you ever noticed your "newer" outdoor cushions take a beating at the end of summer? Or something plastic like a storage bin or a hose reel that got a touch of sun, and suddenly cracks? Those rays over time always seem to destroy most of the things they touch.
Our measured UV ratings back this up as well, with the Phoenix Valley regularly getting "11" UV Index days. On this scale a 6 is considered High, 8 is Very High, and over 11 is Extreme. Our summer is quite extreme, but UV can even cut through clouds on our rare cloudy days. It is just omnipresent, which is why dermatologists are so insistent on daily sunscreeen.
"I'm tired of all this nonsense about beauty being only skin-deep. That's deep enough. What do you want, an adorable pancreas?"

— Jean Kerr
UV Exposure Leads to Invisible Damage and Skin Cancer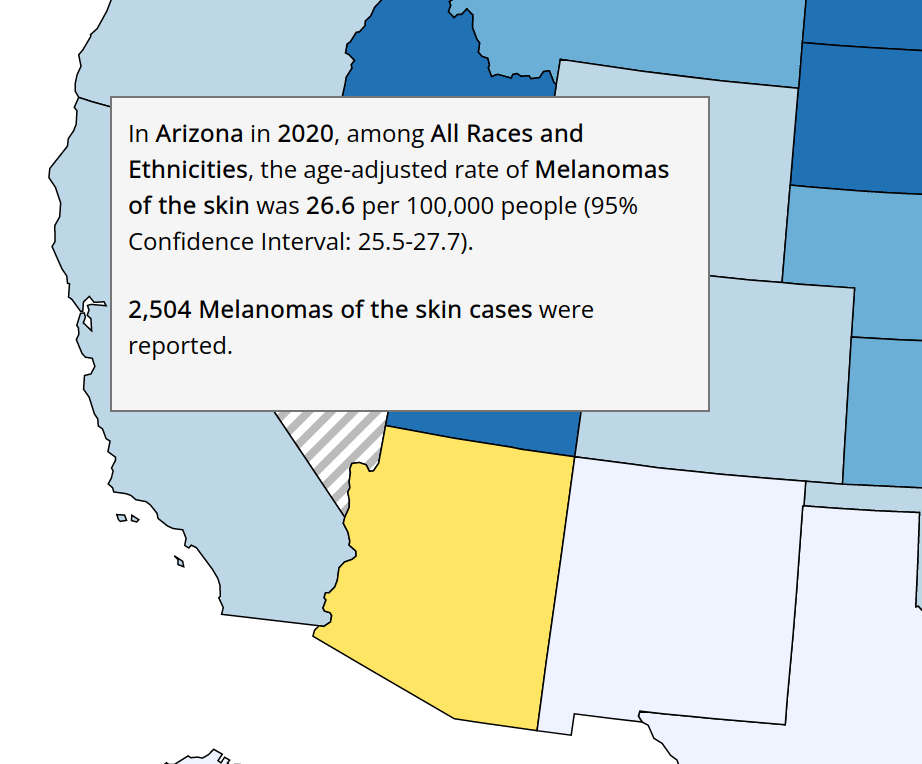 The American Academy of Dermatology Association cites skin cancer as "one of the most preventable cancers" there is. There are several types of skin cancers, each with their hallmark appearance and many affecting fair-skinned persons who do not protect themselves from the sun. These are serious conditions as some types have the ability to spread and become much greater health threats than the initial spot might seem to indicate.
While it may be more preventable, skin cancer is still the most common type of cancer in the United States as per the CDC. Arizona has one of the highest incidences per capita on the national US skin cancer map with 26.6 per 100k, which makes sense given that sunshine is one of our greatest natural resources.
The recommendations for preventing skin cancer are very much about limiting exposure to UV. Outside of any prescribed products or treatments that a doctor may order, this means clothing, applied sunscreen, and other barriers that get between you and those rays.
Intriguingly, the invisible UV damage can even be seen through a special type of photography. See it here: Hidden Sun Damage UV side-by-sides (opens in new window). What our eyes see in visible light is only part of the story.
---
What You Can Do For Your Driving Time
The most important thing is to get a tint that blocks 99% of UV rays, which is worth confirming with your installer when you purchase (all of our films do this). The shade of tint isn't so important, so for that choice - pick what you enjoy. Darker shades of tint do reject a bit more visible light, but the high UV rejection number should be constant and is the most important. A standard tint service will include your doors, any other windows on the sides of your car (such as another row on SUVs or triangular accents), and your rear window.
We also recommend adding to this having the windshield tinted, and possibly your sunroof or moonroof if you have one. This will extend the protection to 360 degrees around your vehicle and especially the face of the driver and front seat passenger.
This is the best thing you can do to shield your skin in the car, and it's way more feasible than wearing full outdoor gardening gear (wide brimmed hat, long sleeves, and sunglasses) while driving.
---
Book Your Car: Call Jonathan at 602-621-9695
Sources:
American Academy of Dermatology Association
Sunscreen Stats @ AADA
CDC Melanoma Statistics