Book Your Appointment Now: starting at $825 For Clear Bra in Scottsdale Call 602-621-9695

Want more coverage? Our full front clip service starts at $1,600.
Looking for Ceramic Coating instead? Ceramic Coat No-Wax Finish
Clear Bra: the Ultimate in Damage Protection
When it comes to protecting your paint and keeping your vehicle as pristine as possible, our clear bra ppf (paint protection film) can't be beat! This is a thick, crystal-clear barrier film that we apply over painted surfaces of your vehicle to keep it fresh and unchipped.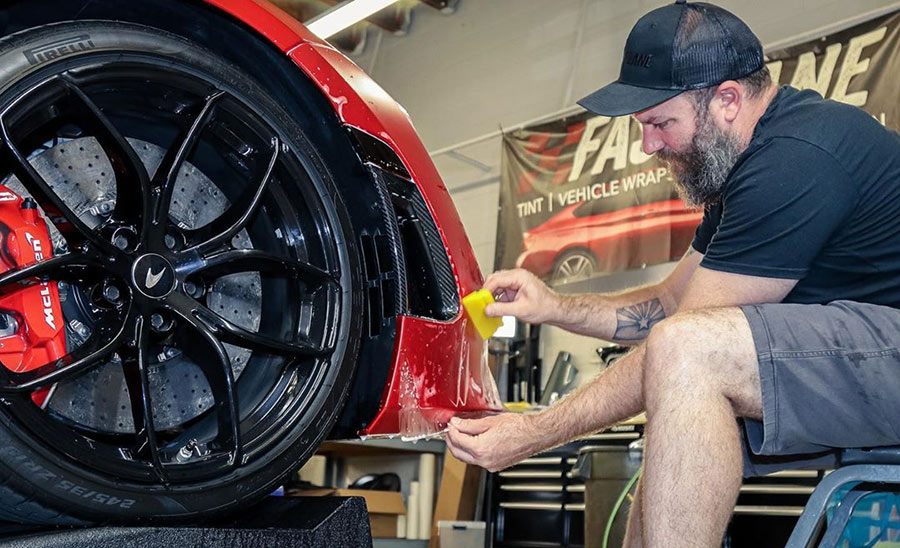 Clear Bra really has no equal, as wipe-on coatings don't come close to offering the same level of protection. While the ceramic coatings are excellent for keeping a no-wax finish, and we love their hydrophobic qualities, they are not thick enough to stop the rocks. Leather and vinyl style car bras provide the barrier, but with a very different aesthetic.
If you fell in love with the car just as it was when you bought it, you need clear bra!
This is simply the best choice in high protection products, and we install it on everything worth protecting: from daily drivers to supercars. See Also: Fast Lane Loves Teslas ♥
Take it from one of our customers:
"My brand new BMW has only 300 miles and already a few rock chips on it. When can you get me in? I don't ever want to see any new ones."
Keep Your Paint in Top Form Against Debris and Contaminants
From swirls to scratches to chips, these are the top offenders:
Rocks
Bug guts
Bird droppings
Salt
Shrubs & curbside plants
Water
Staining agents
Wash contact (mitts, towels, etc)
Clear bra film will protect you from all of it.
Our standard kit will cover the most-exposed front bumper and adjacent surfaces that suffer the most from grit and gravel. We can also do the full front clip, which covers the entire hood and front fenders.
A Smart Investment In Your Vehicle
Clear bra does have a modest cost to install, but this pales in comparison to a professional paint job. You only get one factory paint job: take care of it! It is so much easier and more rewarding in the long run to keep paint in good condition by protecting it.
The earlier we can get your car in for clear bra installation, the better. Some of our customers drop their cars off straight after picking them up from the dealer. Or, arrange to have them protected prior to home delivery.
The film goes on and the damage stops. Bottom line.
If you love the way your car looks today and want to keep it that way, PPF is how!
Book Your Car: Call Jonathan at 602-621-9695
Ageless Paint that Requires No Maintenance
It's always so satisfying to see our clear bra customers again for new additions and to admire how well their front end is looking. Being so well taken care of and preserved, they seem as though they could have just been driven off a dealer's lot!
As with our window tint services, we spend more to get the best quality in materials. We use a 10 Year Ultra film that is guaranteed not to crack, bubble, or yellow for at least a decade.
Realtalk: "but does it last?" We have clients at the 5+ year mark and their clear bra or full front end kits still look sharp and clean, without chips. When our first PPF customers hit the 10 year mark, we'll show the results here. The materials on the market now are far more advanced than the early ones (which would eventually discolor and crack but still protect until they were removed).
There are occasionally cases where a large rock will hit on the most delicate of corners, causing some damage. It's the same story for windshield glass. We've all been running late at some point and driven too close behind a heavy hauling truck, when a rock flies and gets you good. No film is going to be bulletproof, and the leather style bras can't promise that either. But the vast majority of flying debris will bounce right off, your vehicle unscathed.

---
Full Body and Matte Clear Bra Installations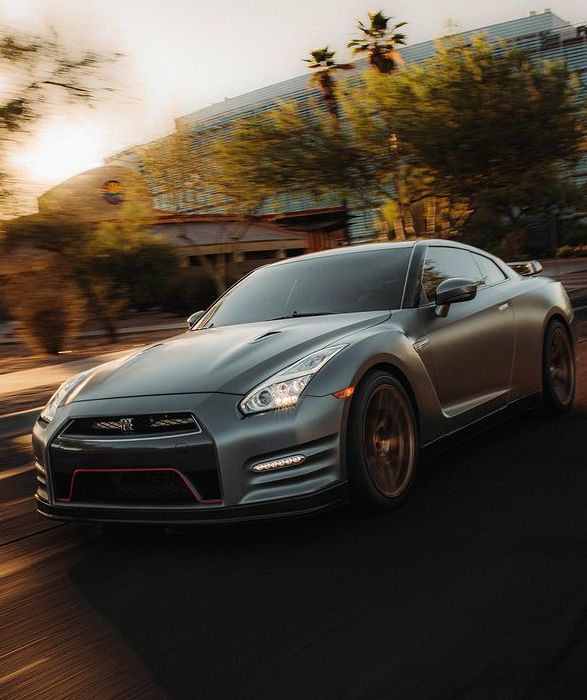 For the owner who wants truly the best in entire coverage paint protection, we offer our full body clear bra service. The process takes most of a week and your car will be up on
---
Paint Correction Comes First, When Needed
Before we put your paint "under glass" so to speak, it will need to be cleaned within an inch of its life and some paint correction may be warranted. For new cars that arrive straight to our shop from the factory (like Teslas), it will be cleaning only prior to material application. On vehicles that have seen some miles, this detail work will include thoroughly cleaning the pores of the paint and removing embedded contaminants.
We do not repair paint chips or major defects if they are present, but those can be addressed separately before bringing the car to us if they are significant. All the more reason to put as few miles on the car as possible before the appointment.
This preparation phase is one that help us get the absolute best result for your front end, and so we don't skimp on the elbow grease. It's all in the details!
Consider Adding Ceramic Coat
Our clear bra material comes with a hydrophobic outer layer which sheds water and protects the film. We also offer a separate water-repelling coating to extend that benefit over the entire vehicle.
A very nice upgrade and compliment to clear bra is our Ceramic Coating, which we apply to all painted surfaces (and optionally your wheels) and makes keeping a clean car a piece of cake. This is excellent for everyone who likes to maintain a very neat exterior but especially realtors, sales professionals, consultants, and executives. Clear bra & ceramic coat are the dynamic duo that will keep you looking presentable with the least amount of effort.
This high end service can be used for cars with clear bra, paint, and also vinyl wraps. It's a hydrophobic sealant gel that sheets water off before spots can form and further resists light surface scratching. No waxing regimen is required for paint covered with either PPF film or ceramic coat.
---
Read more about rock chip protection
When Do You Need Clear Paint Protection?
For daily driven vehicles, our recommendation is that if you're going to own the car for 5 or more years, paint protection is for you. Clear guard film is a fraction of the price of fixing paint that is already damaged. Why not preserve what you started with and simply never drive a chipped up car?
Proud owners of pristine supercars regularly have the entire vehicle wrapped front to back in clear paint protection film. The investment is small and you simply cannot have another original factory paint job - you only get one! We help you take care of it.
What does PPF Look Like?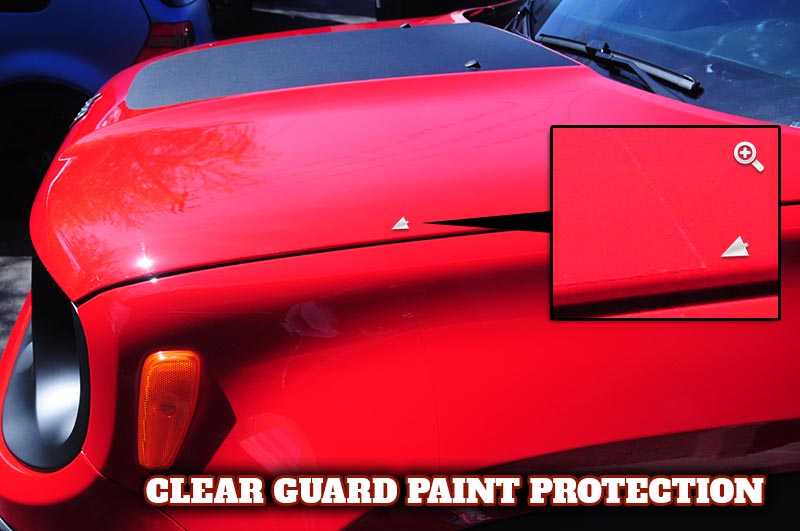 Unlike most of our other services, clear guard film doesn't actually change the look of your car at the time of the appointment. (Well, you can also protect your paint with a vinyl vehicle wrap!) For exotic sportscar and classic car owners, this is often a plus - the beauty and original style continues to shine through.
What you will most notice is that your car just plain does not age in the right places. No door dings, no rock chips, and NO SCRATCHES!