Book Your Appointment Now: $750 For Clear Bra in Scottsdale Call 602-621-9695

Want more coverage? Our full front clip service starts at $1,400.
Looking for Ceramic Coating instead? Ceramic Coat No-Wax Finish
Clear Bra: the Ultimate in Damage Protection
When it comes to protecting your paint and keeping your vehicle as pristine as possible, our clear bra ppf (paint protection film) can't be beat! This is a thick, crystal-clear barrier film that we apply over painted surfaces of your vehicle to keep it fresh and unchipped.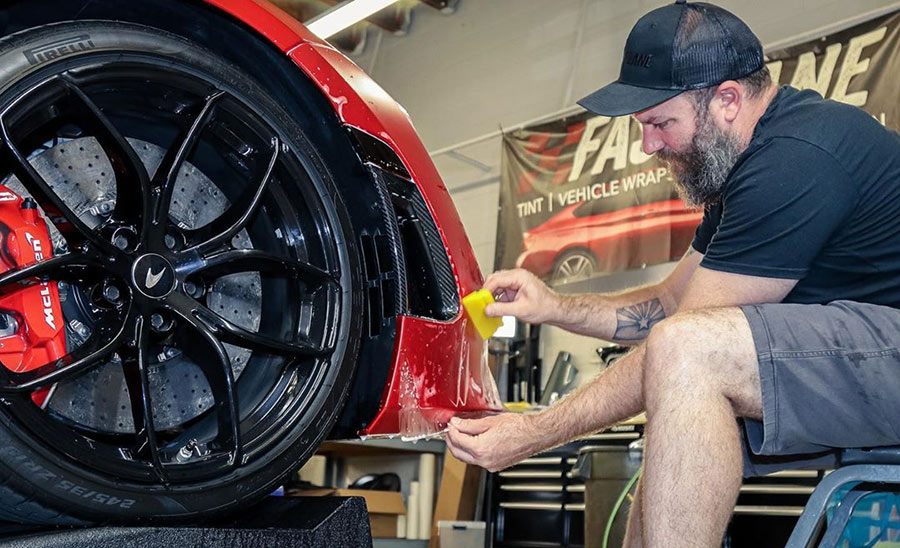 Clear Bra really has no equal, as wipe-on coatings don't come close to offering the same level of protection. While the ceramic coatings are excellent for keeping a no-wax finish, and we love their hydrophobic qualities, they are not thick enough to stop the rocks. Leather and vinyl style car bras provide the barrier, but with a very different aesthetic.
If you fell in love with the car just as it was when you bought it, you need clear bra!
This is simply the best choice in high protection products, and we install it on everything worth protecting: from daily drivers to supercars. See Also: Fast Lane Loves Teslas ♥
Take it from one of our customers:
"My brand new BMW has only 300 miles and already a few rock chips on it. When can you get me in? I don't ever want to see any new ones."
Keep Your Paint in Top Form Against Debris and Contaminants
From swirls to scratches to chips, these are the top offenders:
Rocks
Bug guts
Bird droppings
Salt
Shrubs & curbside plants
Water
Staining agents
Wash contact (mitts, towels, etc)
Clear bra film will protect you from all of it.
Our standard kit will cover the most-exposed front bumper and adjacent surfaces that suffer the most from grit and gravel. We can also do the full front clip, which covers the entire hood and front fenders.
A Smart Investment In Your Vehicle
Clear bra does have a modest cost to install, but this pales in comparison to a professional paint job. You only get one factory paint job: take care of it! It is so much easier and more rewarding in the long run to keep paint in good condition by protecting it.
The earlier we can get your car in for clear bra installation, the better. Some of our customers drop their cars off straight after picking them up from the dealer. Or, arrange to have them protected prior to home delivery.
The film goes on and the damage stops. Bottom line.
If you love the way your car looks today and want to keep it that way, PPF is how!
Book Your Car: Call Jonathan at 602-621-9695