Ceramic Coat Makes it Easy to Keep a Clean Car
Enjoy a freshly detailed car as much as we do? Consider ceramic coating over your car's entire exterior, for the ultimate low maintenance finish.
This is a hydrophobic coating that can go on top of paint, metal, glass, vinyl, ppf, and other surfaces. Dust and dirt will then rise off easily, and the water sheets away - almost like magic. For those in-between-detailing maintenance washes, you can cut your time from 40 minutes down to 10. Yes, really!
Dirt Washes Right Off a Ceramic Coated Surface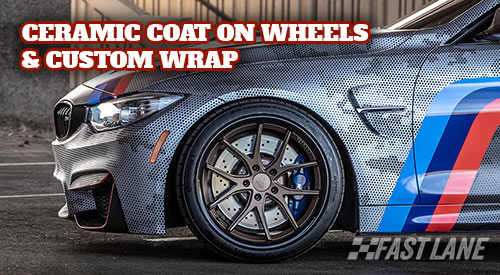 Water doesn't hang around on surfaces that the product has been applied to, it sheets right off - taking all the dirt and dust with it. Things don't stick anymore, and this is a product that can also be applied to windows for the same effect.
Remember RainX? Ceramic Coating is a lot like that but over your whole vehicle.
Wheels are an excellent choice for ceramic coat because keeping nice wheels free of brake dust can be a real pain in the neck. If you would prefer to leisurely aim the hose at your rims instead of crouching down with a wheel brush, then ceramic coat is for you. Road and brake particulates flow away easily.
No-Wax Finish With No Water Spots
This is a true no-wax finish: once applied, you do not need to be adding more products seasonally over the time. It is very durable and offers protection against light scratches with no further maintenance. A quick wash here and there, and you have a nice presentable car with far less effort than the standard upkeep regime.
Not only will you not be waxing, you won't be racing the clock anymore to towel dry after a wash. Since the water sheets right off and doesn't hang around, you no longer have to worry about water spots. The coating repels water droplets, preventing them from landing and drying into a thousand spots.
Ceramic Coat Services

Each coat of our Hydrophobic Ceramic product is applied slowly and methodically. Each package includes a different number of layers, with more layers giving the best longevity and resistence properties.

| | |
| --- | --- |
| Silver Package | 7 years |
| Gold Package | Lifetime |

The price for your specific make & model may differ slightly from these prices, and some cars will need additional paint correction before application.
Ceramic Coat vs Clear Bra Paint Protection Film
For true serious rock chip avoidance and paint preservation, there is no equal to our clear bra paint protection film. That is the truth of the matter.
Clear bra PPF is a thick physical barrier that rejects and deflects the daily road damage. By contrast, Ceramic Coat goes on at only several microns thick, but applied in multiple coats will give a level of surface scratch protection.
The two products actually compliment each other very well (ceramic coat over clear bra, and the entire vehicle) to give you beautiful long-lived paint with an easy care routine.
Book Your Car: Call Jonathan at 602-621-9695