For a Chrome Delete quote and to Book Your Appointment: Call 602-621-9695
Our most popular colors for chrome delete / trim wrap are gloss black and carbon fiber.
Price for full vehicle trim wrap (chrome delete) is typically $500-1000. Window-surrounds only is about $300-400.
Chrome Delete: The Partial Wrap with a Big Impact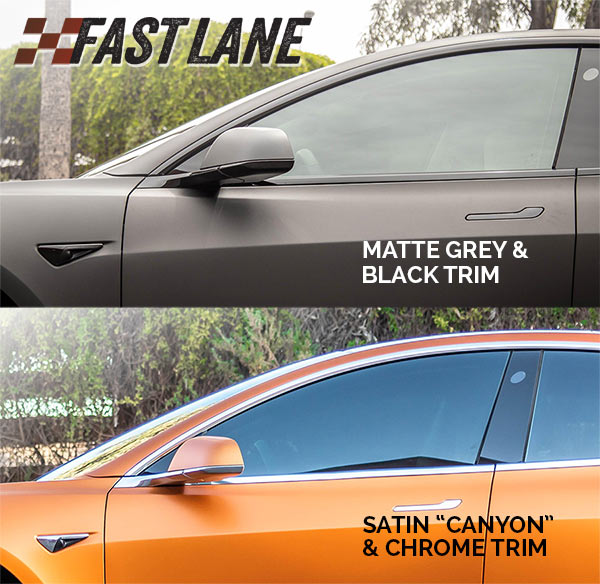 The great thing about chrome delete with vinyl is that it's a beautiful no-damage process that you can undo at any time.
Wrapping your trim is all about creating a subtle difference from the factory finish, often with a big visual result. For vehicles with black paint, it's the fast way to a fully blacked out look. White paint becomes even more crisp and formal looking when the trim is wrapped over.
No matter what color your paint is, covering your vehicle's chrome trim will serve to enhance and put all the focus back on the body lines and depth of color.
Our pair of wrapped Teslas illustrates how you might style your exterior: sporty and stealthy with subdued trim, or bright and custom-colored with original chrome accents.
Good design is all about contrast. Push it farther for a high-contrast look, or take it lower and achieve a subtle / understated appeal.
Both cars look fantastic even though they are very different. Notice the intricate details of the side mirror and wrapped door handles. The craftsmanship is in the details.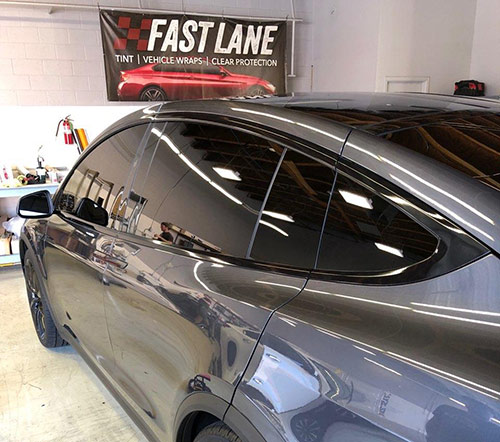 Stand Out From Stock
We have many clients who aren't looking for a full vinyl vehicle wrap but would like to take their style a notch or two beyond what the factory delivered.
Go above and beyond the standard experience with trim wrap (chrome delete) and similar tasteful updates:
Powdercoated wheels (or new wheels)
Roof wrap
Grille and badge wrap/blackout
Tail light tint
Subtle stripes, any kind
Front or rear diffuser/spoiler
(Note: Fast Lane does not offer all of the above)
Wrap that Chrome: Call Jonathan at 602-621-9695