Unlike most shops, we like to be upfront with our window tinting prices. We post our price list on our website for you, and we're confident that you won't find a better value (or a friendlier bunch) in Old Town Scottsdale.
Book Your Appointment: Full Premium Tint Price $295, Full Ceramic Tint Price $395, 602-621-9695

Additional fee may apply for removing existing tint, if required.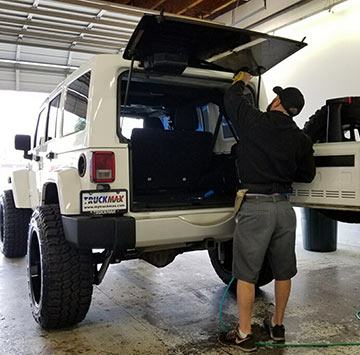 Film Quality and Window Tinting Prices
No matter the dollar amount on the invoice, if you didn't get great quality film then it probably wasn't a good buy. Here's why: if you own your vehicle more than two years - and most of us will - there is a strong likelihood that your tint could fail on you. You will walk out to your car one morning and discover unsightly bubbles, fingers, and creases on your windows. Yes!
The problem with low end tint is that it fails too frequently and too early. There are multiple layers to that thin layer of window tint, and different defects arise when the various layers go bad. Adhesive failure? You'll see bubbles and fingers as early as year 2. Tinted layer fading too fast? It does happen with older or less advanced (read: cheaper) materials.
If you are like us, and like to have a tidy and presentable driving experience, you will have to get this fixed ASAP. More appointments, more waiting, and most importantly - the higher expense of a strip and retint service.
Sadly those hot-deal window tinting prices almost always turn out too-good-to-be-true. Faced with the extra cost and labor the second time around, and the inconvenience of going in twice in 2-3 years, bargain-bin tint is not the way to save money or time.
Factor a Lifetime Warranty into Our Window Tinting Prices
Since we insist on only using films we would want on our own cars and trucks, we offer you a lifetime warranty with every Premium and Ceramic window tint. We also cut out entirely a "regular grade" service, because why bother with second rate?
Film technology has come so far, and our Arizona sun is the perfect proving ground for new window tint products. Our manufacturer offers a lifetime warranty on their film, and so we extend that to you on the service side as well. For as long as you own your car, if something should come up, simply bring it back to us and we will make it right.
When window tinting prices are too good to be true, that's a one-and-done kind of sale. That's not our style, and we stand behind the quality of our services.
Make Your Appointment: Call Jonathan at 602-621-9695